Product Description
FEATURES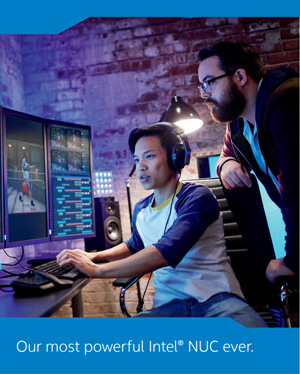 Play. Create. Entertain. Transform.
A Mini PC with the power of a desktop tower, the Intel® NUC NUC5i7RYH packs the Intel® Core™ i7 processor with Intel® Iris™ graphics,1 and support for wicked fast M.2 form factor SSDs and 2.5″ drives into 4 inches square. This fully scalable, Mini PC is the most powerful Intel NUC yet and gives you premium performance and eye-popping visuals you need to play, create, entertain, and transform.
Complete with WiFi 802.11ac, Bluetooth, and 7.1 surround sound, the Intel NUC NUC5i7RYH is ideal for home theater PCs, media server PCs, and gaming PCs, as well as your most demanding tasks. The consumer infrared sensor means you can control your Intel NUC from the comfort of your couch, and the system has room for both a 2.5″ HDD so you can store all your media AND an M.2 SSD drive so you can transfer data at lightning speeds. Use the mini display port, the mini HDMI video interface, or Intel® WiDi1 to connect your Intel NUC to a display.
A replaceable lid gives you plenty of options to create the Intel NUC you want—with amazing style and features. There's also a high-speed USB 3.0 charging port that lets you easily charge your tablet or smartphone quickly even when the Intel NUC is idle or off. With this kind of power, size, and versatility, you'll rethink what's possible.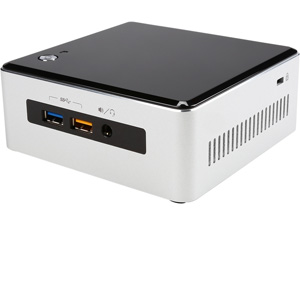 Built in brilliance, powerful performance
The Intel NUC NUC5i7RYH is equipped with the 5th generation Intel Core i7-5557U processor, giving you premium performance so you can access multiple applications effortlessly and unleash incredible digital media creation capabilities. It also features Intel Iris graphics 6100 with 4K display capabilities to provide discrete-level graphics performance2 and amazing multimedia experiences for immersive gaming and home theaters. You can watch theater-quality 4K videos in your living room or grab a game controller and answer the call of duty, seeing your games the way they were meant to be seen. When creating content, your video and images render quickly and display brilliantly.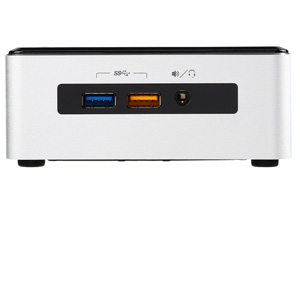 Advanced technologies
Based on the 5th generation Intel Core i7 processor, you'll get ultra-responsive performance and less waiting and more doing with Intel® Rapid Start Technology.1 Intel® Ready Mode Technology1 means you'll never miss out on e-mail, IMs, real-time news and sports updates, or social media posts. It also lets you stay connected with friends and family by keeping your video conferencing apps running in the background. And for peace of mind you'll get embedded security that helps keep threats out, user identities and credentials safe, and your data protected. Who knew that 4 inches square could offer so much capacity?
HIGHLIGHTED FEATURES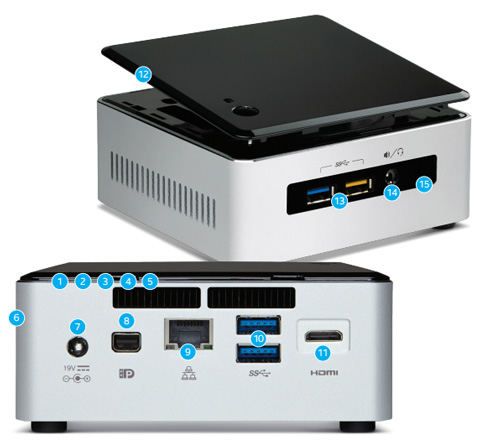 1. 5th generation Intel® Core™ i7-5557U processor
2. Two DDR3L SO-DIMM sockets (up to 16 GB, 1333/1600 MHz)
3. M.2 slot with flexible support for a 42, 60, or 80 mm SATA or PCle3 SSD
4. 1x SATA port for connection to 2.5″ HDD or SSD
5. Intel® Dual Band Wireless-AC and Bluetooth 4.0
6. Kensington lock support
7. Backpanel DC power connector (12V – 19V) 8 One Mini DisplayPort version 1.2 supporting
8. channel digital audio (7.1 surround sound)
9. Intel® Gigabit LAN
10. 2x USB 3.0 ports on the back panel
11. Mini HDMI port supporting HDMI 1.4a and 7.1 surround sound
12. Support for user-replaceable third-party lids
13. 2x USB 3.0 ports on the front panel (including one charging port)
14. Intel® HD Audio1 via Headphone/Microphone jack
15. Consumer infrared sensor
WHAT'S