Product Description
The Asus SABERTOOTH Z170 MARK 1 motherboard is a mark of new era with a blend of quality, performance and features. Based on the Intel Z170 chipset, it supports the latest 6th generation Intel Core processor in LGA 1151 package, and comes with four DDR4 DIMMs and two PCIe x16 slots that support CrossFire/SLI configuration. Built to be one of the toughest Z170 motherboards, the SABERTOOTH Z170 MARK 1 incorporates military-grade components and an array of stability- and reliability-enhancing design innovations into a thermal armor-covered package. You'll also delight in the SATA Express, M.2 and USB 3.1 connection that take I/O transfer speed to the next level.
Innovative and Creative – Designed Tough. Built to last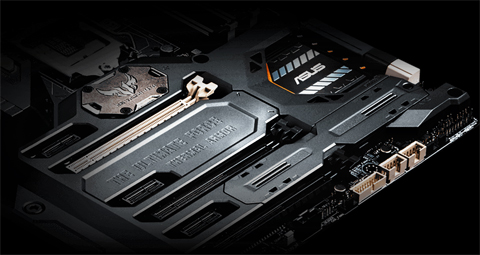 A mark of new era. With the next era of technological progress, we challenged ourselves to evolve into bringing a completely new design language to TUF line of motherboards. By harnessing our best technology paramount design credentials, SABERTOOTH Z170 MARK 1 envisions futuristic fighting forces, with sleek, stealthy Thermal Armor reimagined in black and metal grey to make a powerful statement of both high style and extreme strength.
Detachable Metal TUF BADGE
Forged with a singular steel construction, a strong metal that channels courage — a symbol of your true being and everything you stand for.
Q-LED indicators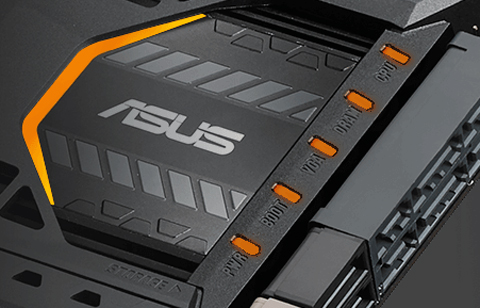 With a design Inspired by an armored cockpit, see the power and act on the alerts, with a clear indication of five key boot actions.
Thermal Armor – Strengthen Your Ability. Totally Boosted Airflow.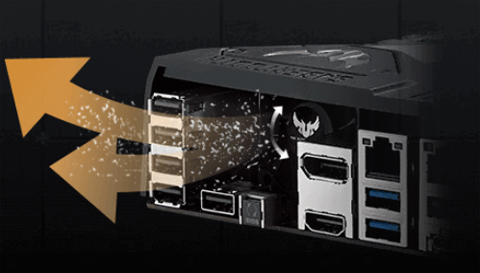 TUF Thermal Armor is more than a futuristic shield: it employs dual fans to provide maximum airflow and rapid cooling board-wide, and a new interior shunt design to boost air cooling to the M.2 slot. Reversible-airflow technology blows dust up and away from the heatsink VRM, while the exclusive flow-valve design controls the heat-pipe's air contact — great for liquid-cooling setups.
TUF Fortifier – Improves Rigidity and Cooling Behind the Board
SABERTOOTH Z170 MARK 1 delivers great strength and cooling via exclusive TUF Fortifier. A reinforced backplate ensures that the motherboard doesn't buckle under the weight of heavy graphics cards and CPU coolers, minimizing the risk of damaged circuitry from bowing and bending. TUF Fortier even reduces internal temperatures by up to 13°C — an 18% improvement on the previous design!
OC Design – ASUS PRO Clock Technology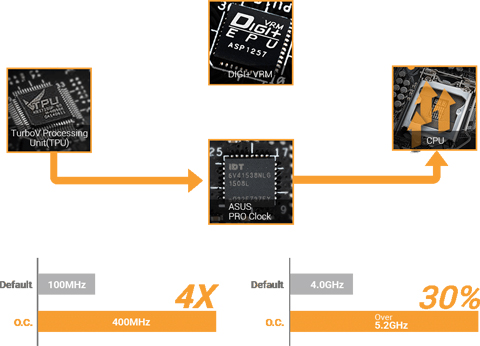 A dedicated base-clock (BCLK) generator designed for 6th-generation Intel® processors that allows overclocked base clock frequencies up to 400MHz*. This custom solution works in tandem with the ASUS Turbo Processor Unit (TPU), to enhance voltage and base-clock overclocking control — granting an exciting new way to boost performance to extreme heights.
Media-Acclaimed UEFI BIOS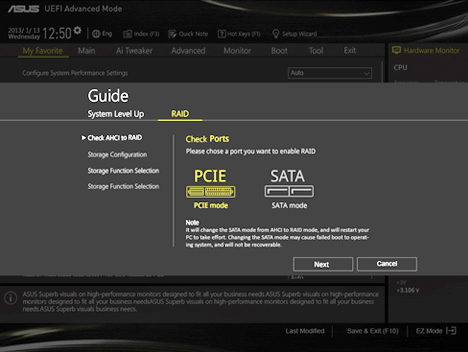 The smoothest, slickest mouse-controlled graphical BIOS has been improved to make it even more appealing. Whether you're a PC novice or a seasoned overclocker, the EZ and Advanced Modes help you find your way, quickly and easily.
TUF ICe – The Total Cooling Commander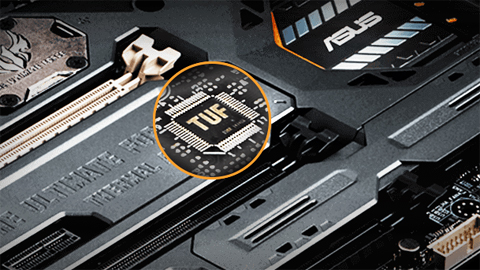 ASUS TUF engineers have forged TUF ICe, a dedicated processor that monitors onboard temperature sensors and fan speeds for ultra-accurate cooling — whether you're adjusting settings manually or using the automatic one-click optimization via Thermal Radar 2 and TUF Detective 2.
Thermal Radar 2 – Instant Fan Tuning. Complete System Cooling

Thermal Radar 2 now has 13 fan connectors and is able to connect with TUF Detective 2 wirelessly for fan control via your smartphone or tablet. Moreover, multiple onboard sensors and the bundled thermistor cable let you monitor graphics card temperatures and other key components in real time, so you can adjust manually or optimize automatically with one click.
TUF Detective 2 – System Management at Your Fingertips
A free companion app puts detailed system information and a user-friendly interface at your fingertips – right on your smartphone or tablet. You're able to detect and diagnose errors and adjust your system operation with touchscreen ease. Moreover, you can control your fan and monitor your system wirelessly via the app. Your PC doesn't even need to be switched on for you to make use of the app!
TUF Defenders – Repel the Dust. Extend the Lifespan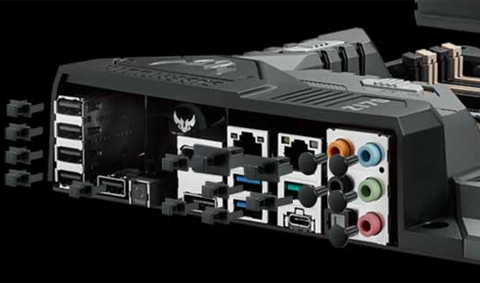 TUF design protects back I/O ports, expansion and memory slots, and prevents dust and other airborne particles from entering critical connectors. Dust Defenders guards against dust build up, helping your PC perform in an optimal and stable state for longer.
TUF Components – Certified for Yough Duty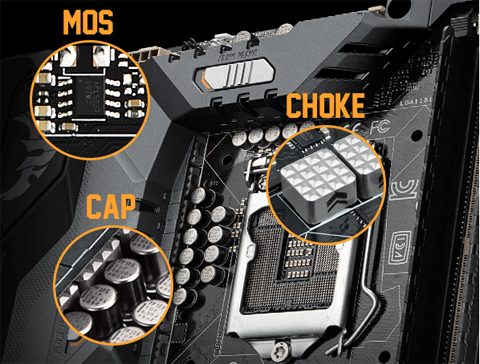 TUF Alloy Chokes:
13.6% Cooler for extra-unbeatable durability
TUF 10K Ti-Caps:
+20% temp. tolerance and 5X longer lifetime usage.
TUF MOSFETs:
military-grade certified MOSFETs with lower RDS(on) (Low RDS means more power efficient and will thus produce slightly less heat as a by-product of the MOSFET)
TUF ESD Guards 2 – 2X Stronger ESD Protection for Extended Component Lifespan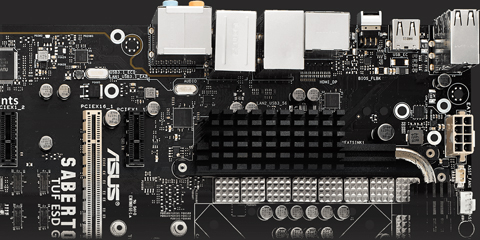 Electrostatic discharge (ESD) can happen suddenly, and its damaging effects are easily underestimated. TUF ESD Guards 2 technology is tested to standards that are 2X higher than industry standards and exclusive pin-level on specific rear IO connectors* testing is 30% higher than previous TUF standard, ensuring electrostatic discharges are properly grounded from all onboard connectivity — and that means greater component longevity. (*USB/LAN/DVI/HDMI/DisplayPort)
24/7 DURABILITY

You demand 24/7 durability, so we've delivered! TUF motherboards undergo the industry's most-punishing tests to ensure they're ready for permanent duty in all scenarios. In our development labs we heat them, chill them, bend them, shock them and drop them — so you know that your TUF motherboard is certified for 24/7 durability!
Ultimate-Speed 10Gb/s with USB 3.1 Onboard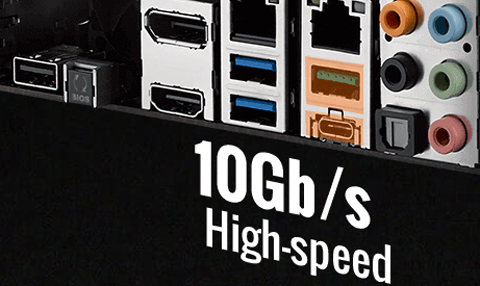 With one USB 3.1 Type-A port and one reversible USB 3.1 Type-C for the very fastest USB connections, you'll experience data-transfer speeds of up to 10Gbit/s — or twice as fast USB 3.0. USB 3.1 is completely backward-compatible with your existing USB devices, and you'll be all set for USB 3.1's breakneck speeds. And ASUS-exclusive USB 3.1 Boost technology automatically accelerates USB 3.1 performance even further!
Evolve Your Storage Speed with SATA Express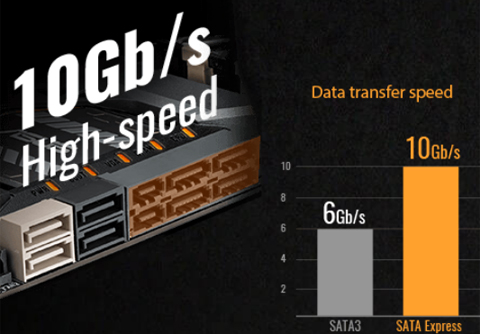 SATA Express provides up to 10Gbit/s data-transfer speeds from two PCIE 2.0 lanes, resolving the higher bandwidth request in the near future. The current SSDs consume up to 550MB/s, which is close to saturation point for SATA 6Gbit/s connections. Backwardly compatible with up to two SATA drives, SATA Express is the next-generation connectivity standard — and ensures that you and your system won't get left behind.
Speed Up Your System with M.2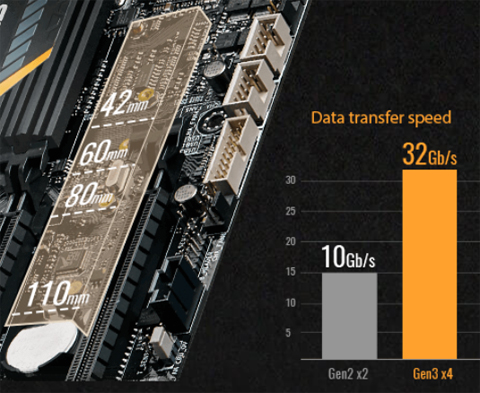 With four native PCI Express 3.0 bandwidth, M.2 supports up to 32Gbit/s data-transfer speeds. It is the perfect choice for an operating system drive, making your whole PC work that much faster. It supports Intel Rapid Storage Technology to ensure even faster access to data, refresh applications automatically and awake from sleep in just seconds.
Turbo LAN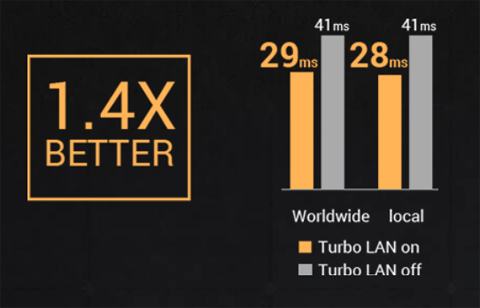 Turbo LAN with cFosSpeed traffic-shaping technology adds even more lag-reducing support and intuitive user interface. It allows you to lower lag with no expert knowledge – by up to 1.45X! If you're a tweaker, use Advanced Mode for hardcore controls.
TUF Audio Design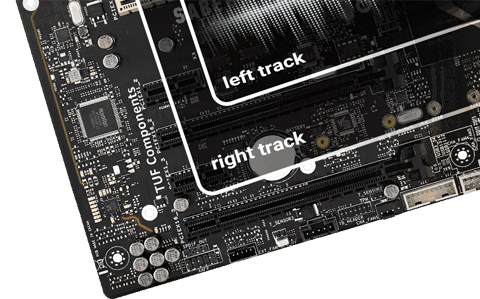 TUF Audio Design makes short work of optimizing audio settings for the way you want to listen, chatting, watching movies or relaxing to your favorite music. Onboard physical shielding, professional engineered design and premium components result in sound output that has exceptional clarity and fidelity.
Audio Shielding
Ensures precision analog/digital separation and greatly reduced multi-lateral interference.
Unique De-Pop Circuit
Reduces start-up popping noise to all audio outputs
Audio Amplifier
Enhance the highest quality sound for headphone and speakers
Special Layout Design